Company Culture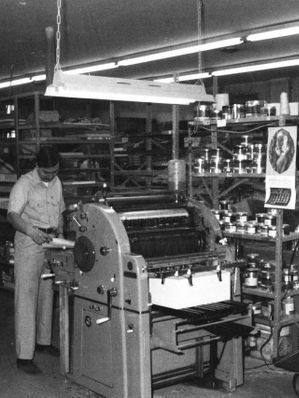 B&B Press is first and foremost a family business. Founded and sustained with old-fashioned respect and service. We care for each and every customer and project. We won't say we are the only but, we are one of those companies that does anything possible to help our clients.
There is no greater satisfaction than delivering a finished product that helps a client reach their goals and objectives. To learn more about our approach to customer service, follow the provided links for more information.
Our Mission And Promise To You
Our Mission is to provide the most effective communication products and services available. Our clients want to communicate with their customers, future customers and personnel. Building our client's business is our business, and providing ideas and materials that help our clients build business is what we do.
Guiding Principles
The story of B&B Press is really the story of our Grandfather and the Bistis family.
Constantine Bistis was all of 18 years old when he came to America from the island of Andros, Greece. He had spent 2 years working on cargo ships as a communications officer. In July, 1907, after a particularly perilous storm in the south Atlantic, he wisely decided to relocate to solid ground, becoming the first Bistis to come to America, the land of opportunity.
Constantine learned the English language and attended night school, after working all day as a laborer. Settled in Newark, New Jersey he became active in the local Chapter of AHEPA, a Greek civic organization comprised of area businessmen. Many of these men were owners of the well-known "Greek" diners that were springing up all over the state. They convinced Constantine, an educated and hard-working man, to open a print shop that would supply the daily menus for their diners.
Constantine married Helen in 1921 and they had four children, Mary, Matthew, Irene and John. As the children grew up, they all worked at the "shop" on New Street whenever they were not in school. In 1937, the impending turmoil of Europe was matched on a smaller scale at home. Constantine became seriously ill and was unable to work. Helen, perhaps the strongest woman in my memory, took on the responsibility of running the business with the help of the four children. Many a diner-owner was reduced to a young boy when confronted with "Yiayia" (Greek word for grandmother), collecting on a past due invoice. Not surprisingly, the business continued to flourish.
In 1951, Helen finally retired and B&B Press was purchased by sons Matthew and John, and son-in-law Ralph Rosania, who had married Mary. Through the fifties they accumulated more corporate business, and in 1963 B&B moved to Kenilworth, NJ. Rapidly changing technology saw B&B Press transform from the old hot-metal/letterpress process to offset lithography. The business grew quickly as craftsmanship evolved with the introduction of computers in the 1980's.
In 1978 Matthew's son, Mark Bistis, joined the business, having graduated from Rochester Institute of Technology. After working as a pressman and art director, Mark is now President and General Manager. John Bistis Jr. joined the business in 1983, after attending Rider College. As a partner in B&B Press, John led the transformation to digital printing. He retired in November 2014 to South Carolina with his family.
Now located in Lebanon Boro, convenient to both Routes 22 and 78 in Hunterdon County B&B has reinvented itself as a broadbased source of business building solutions. We now provide graphic design, conventional high-volume offset printing, hi-speed digital printing in color or black and white - with broad personalization abilities, posters, banners, bindery and finishing, database management, mailing, inserting, assembly and warehousing.
So, what has Constantine brought to America? Four children, fourteen grandchildren, nineteen great-grandchildren, nine great-great grandchildren and B&B Press. The American dream… an American family-business that thrives today, more than 100 years after he arrived.
If Constantine were alive today, we think he'd be proud.